21 Nov 2023
Student Cup round-up (18th and 19th Nov): Nine more group winners book Norwich spot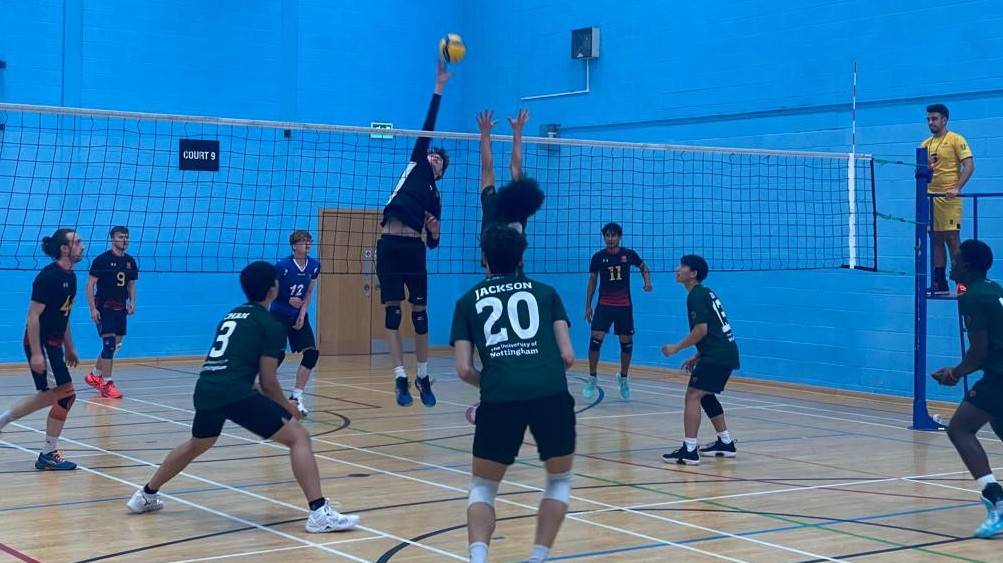 The women's and men's Pool B were completed in Ashcombe, where the University of Cardiff had a great day, coming out on top in both.

The women brushed aside Royal Holloway, the University of Plymouth, the University of Sussex and Solent University without dropping a set and conceding only 108 points from their five matches.
After losing 25-23, 25-12 to Cardiff, Royal Holloway recovered well to win their three other matches, while Plymouth won two and lost two to finish third.
Not to be outdone, The University of Cardiff men also finished with four wins from four and were 2-0 victors each time.
Second in the Pool were University of Southampton, who won a crucial match 2-0 against third-placed University of Bath, with Royal Holloway fourth and Solent University fifth.
Seven pools were contested at Leeds, with Pools C and D taking place on Saturday and Pools E and F (the latter men only) on the Sunday.
Leeds University were the dominant force in Pool C for both the women and men.
In the women's section, the vital match was against Durham University, who they edged out 25-23, 24-26, 15-13 in the tightest of contests.
The North Easterners bounced back to finish second in the group, while the University of Liverpool were third and the University of Huddersfield fourth.
On the men's side, the Yorkshire establishment met far less opposition with consecutive 2-0 sets wins against the University of York, who, in turn, were comfortable winners over the University of Huddersfield to finish second, and Newcastle University.
The overall leadership of women's Pool D was secured by Northumbria University, who were pushed hardest by the University of York before coming through 15-10 in a final set decider.
York went on to take second spot ahead of Sheffield University 2 and the University of Bradford, who were third and fourth.
Men's Pool D was emphatically won by the University of Liverpool as they were 2-0 winners across the board.
Runners-up were University of Bradford, who edged out Elliott Hudson College, Leeds and Sheffield University 2.
On Sunday, attention turned to Pool E, where Sheffield Hallam claimed the Steel City bragging rights over Sheffield University.
The match between the two was drawn 25-21-21-25, but Hallam's superior set difference saw them claim top spot as both sides won all their three other matches against Bangor University, Leeds University 2 and Keele University.
The men's Pool E was the most closely contested of the weekend, with three teams winning three and losing one of their four matches.
In the end, Durham University took top spot on set difference, and, with the University of Nottingham and Sheffield University level on that front, the former's better points difference saw them clinch second. Keele University and Bangor University were fourth and fifth.
In the final Pool of the weekend, the men's Pool F, another close-run thing saw Leeds University edge out Sheffield Hallam University and Staffordshire University, with the University of Salford in fourth.
All the top three won two and lost one, but were ranked as such based on their set difference.
All group winners will advance to play in the finals at the University of East Anglia in Norwich on 3rd and 4th February, while those in second will have to wait to see if their records in terms of points average enable them to qualify once all the qualifying pools have been completed.
Eight more pools will be played this weekend in Kettering at the National Volleyball Centre.
To view all the Student Cup details in full, click here.
Follow all the Volleyball across our social media on Twitter, Facebook, Instagram and TikTok and DM us the best clips of your games.