25 May 2022
Meet the women's teams hoping to fly the flag for England at the Commonwealth Games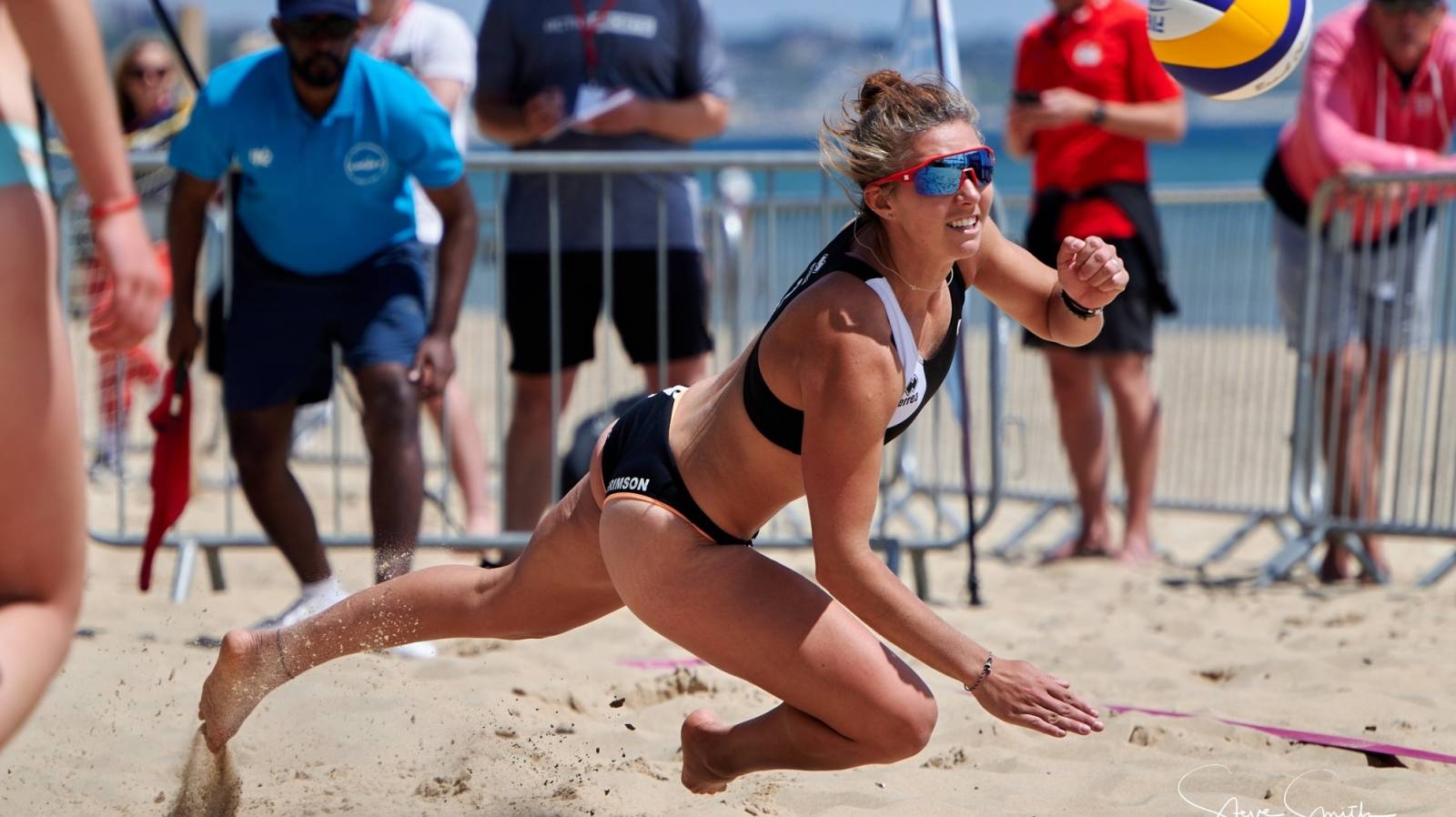 Please note this article was published in May 2022. Click here for information on the Team England athletes playing at Birmingham 2022.

England's best beach volleyball stars will go head-to-head this week for the chance to represent their country at the 2022 Commonwealth Games in Birmingham.
Between 26th"29th May, Deep Dish Crystal Palace, London, will host the Commonwealth Games Selection Tournament " the biggest beach volleyball tournament on home soil since the 2012 Olympic Games. A limited number of spectator tickets are still available to buy. You can also watch every match over on the Volleyball England YouTube channel.
As the country's beach volleyball circuit continues to reach higher levels, so too does the talent emerging from the community into the national team ranks.
In national ranking order, these are the women's teams fighting for glory at the Selection Tournament: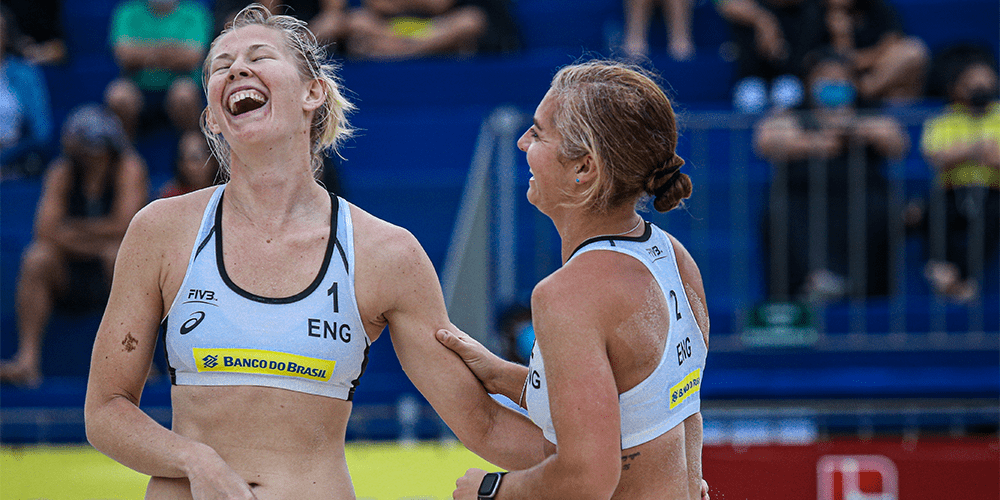 Jess Grimson and Daisy Mumby
Jess, 31, and Daisy, 30, are a new partnership having teamed up at the start of 2020. Both have transitioned into beach athletes after playing indoor volleyball. Jess, originally from Leeds but now based in Bournemouth, picked up a World Tour bronze medal, several top 10 finishes and competed at the 2018 Commonwealth Games. Daisy, of London, has carved out an unconventional path to the national team. A talented recreational player, she was encouraged to take beach volleyball more seriously in recent years " and the move has paid dividends. Jess has played volleyball for 18 years - a chunk of that time at Wessex VC - while Daisy has 10 years experience in the game. The duo finished joint winners of the Commonwealth Games Funding Tournament without dropping a set and were finally able to make their World Tour debut in late 2021, qualifying for the 2nd round in a 4* event.
In preparation for the Selection Tournament, Team Grimson-Mumby has been spending time abroad on training camps with other international teams and seizing as many opportunities to compete abroad as possible.
On the prospect of representing Team England at Birmingham 2022, the pair said: "It would be incredible to be able to compete at the Commonwealth Games in front of our friends, family and a home crowd. The opportunity to not only represent our country in a major games, but with thousands of English fans behind us would be a magnificent experience. Regardless of whether it's us competing at the Games or not, we are excited to hopefully see a legacy of beach volleyball develop in England."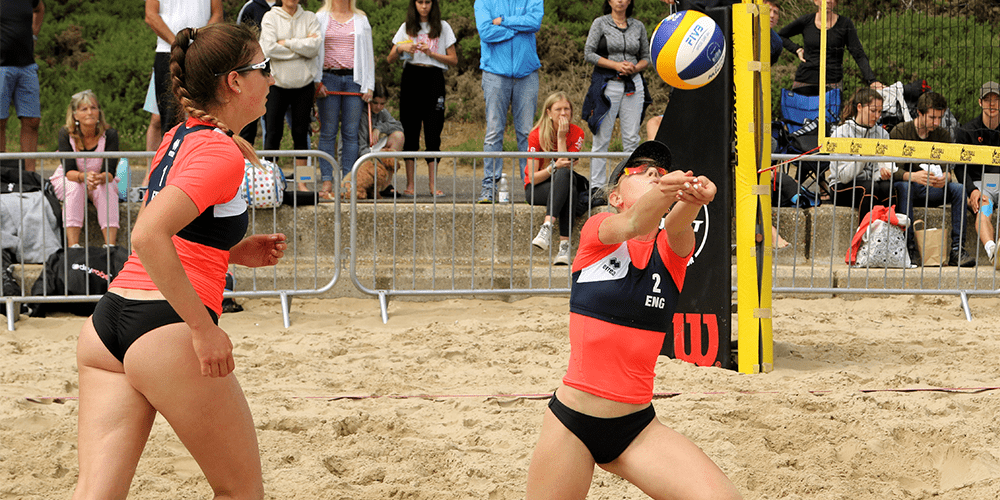 Katie Keefe and Isabelle Tucker
Volleyball prodigies Katie, 19, and Isabelle, 17, showed that even as teenagers they are already amongst England's best after scooping £18,000 in the 2021 Commonwealth Games Funding Tournament. The pair finished 4th in the 2021 European Small Nations Championships, 9th in the 2020 U18 CEV European Championships and both medalled in the 2019 NEVZA Championships, U19 gold for Katie and U17 bronze for Isabelle.

Katie, of London, has just completed the first year of her beach volleyball scholarship at Stetson, Florida. She has played beach volleyball for 5 and volleyball for 8 years, with Richmond VC playing a major role in her development.

Isabelle, of Buckinghamshire, is currently sitting her A-levels and plans to follow Katie to the States in autumn. She has played volleyball since she was just 9 years old and beach volleyball from aged 12. She has played volleyball at Oxford VC and South Bucks VC and made her FIVB World Tour debut in 2021.
Katie Keefe said: "Winning the Selection Tournament would be massive for us and give us the experience of playing at a big home competition with a great atmosphere. It would also show that we are able to compete at a high level despite being young and would be a testament to the hard work we have put in."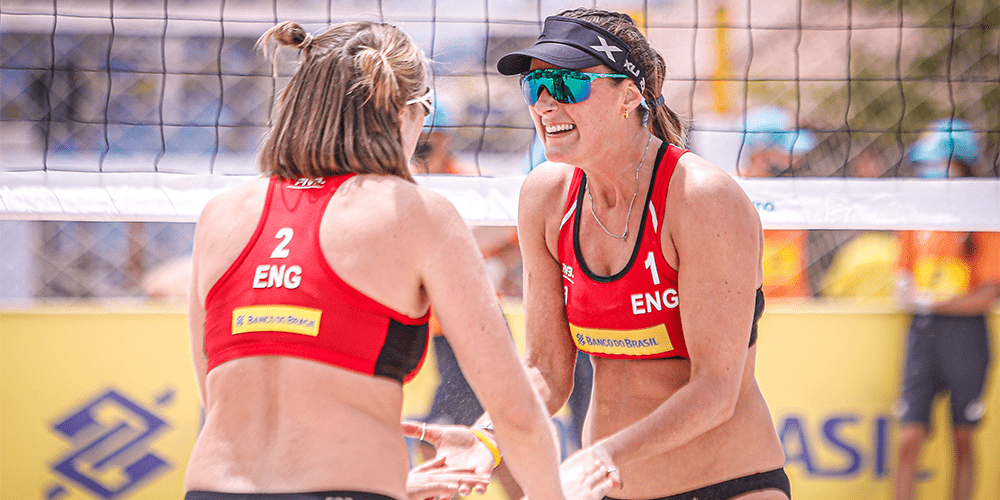 Alana Snow and Victoria Palmer
Victoria, 35, from Poole, narrowly missed out on Team GB's London 2012 volleyball team and is one of the most experienced athletes in the national team. A World Tour bronze medal, a 5th-placed finish at the 2018 Commonwealth Games and 4 UK national beach volleyball championships have been the standout achievements of her 15-year career on the sand, which began at Wessex VC aged 13. New partner Alana, 23, from Woking, is a talented multi-sport athlete who also represents Great Britain in softball. Their World Tour debut came in late 2021 at a 4* event in Itapema, Brazil.
Victoria is a community support officer for Dorset Police while Alana, who fell in love with volleyball aged 13 and started playing beach at Deep Dish in 2018, will soon head back to the States to pursue a masters in recreation and youth development. With their new coach, the duo have been based out of Brazil this year working on a new training regime.
Victoria said: "I was blessed to compete in the last Commonwealth Games with my previous partner Jess - that experience was like no other competition I had ever competed in. However, playing an event with that sort of grandeur in our home nation - there's no doubt it would take the cake.
"The best part of being an elite athlete is getting a chance to represent your country, and to be on that stage doing all we could to make them proud in an arena with the best support we could ever dream of, that would be life changing. I can truly say that we've done the best prep that we could and at the end of the day as long as we play and stay true to us as a team and what we want to do, we will be content regardless of the result."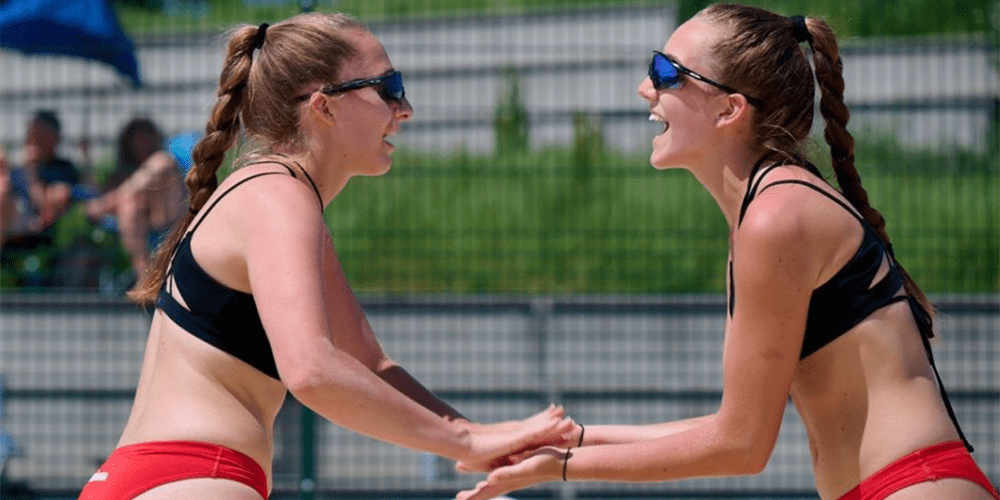 Gaia Canevari and Lisa Canevari
The Canevari sisters Gaia, 24, and Lisa, 17, are an unconventional double-defence team and self-described fighters. Both were born in Milano, Italy, but have spent a substantial part of their volleyball careers in England with Polonia SideOut and Richmond, respectively. Gaia has 18 years of volleyball and 8 years of beach volleyball experience and Lisa 11 in volleyball and 6 as a beach volleyball athlete.
Gaia said: "To represent Team England at Birmingham 2022 would mean to be able to live an amazing experience with our family. We are extremely tight as a family and everything we live is always multiplied by 4 of us, which means we live experiences very intensively and to the fullest.
"For Lisa and I, getting to the Commonwealth Games would be one of our proudest achievements so far, together. Being able to share this experience with my little sister would just be incredible and it would also be an amazing feeling to know that all the hours of training, gym and effort have worked towards reaching this goal.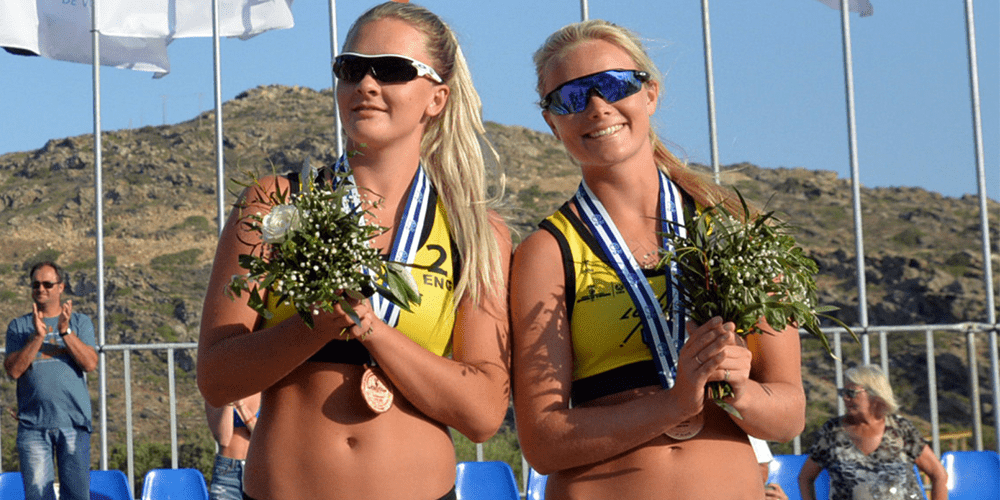 Ellena Austin and Anaya Evans
Ellena, 20, and Anaya, 23, of Croyde, and are both currently in the USA on beach volleyball scholarships. Anaya is the number one pairing for Grand Canyon, ranked 6th nationally, while Ellena is the third pairing for Florida Atlantic, which is ranked 14th. On their World Tour debut back in 2019, the pair bagged an historic bronze medal for England after starting the draw as a reserve team and making their way through single-elimination qualifiers. What made the achievement sweeter was that it was 20 years since England had won a medal at an FIVB senior event " and it was Ellena's mum, Denise, who had won that medal.
The two have played together from a very young age - Anaya aged 7 and Ellena just 5 - and a lot of that time has been spent at the Academy of Beach Sports.
Anaya said: "From the age of 7 I have always wanted to be in the Olympics and one of the goals leading to that desire has always been to compete and represent England in the Commonwealth Games. It would be an incredible experience especially as I am able to play alongside my first ever beach volleyball partner and friend, Ellie Austin.
"But more important than my own feelings would be the opportunity to play and give back to everyone who has helped us over the years, on home soil. Many people have made this dream come true and have made it possible for Ellie and I to be in this position. Seeing the happiness and joy my family and friends experience if we qualify and compete will be the ultimate reward."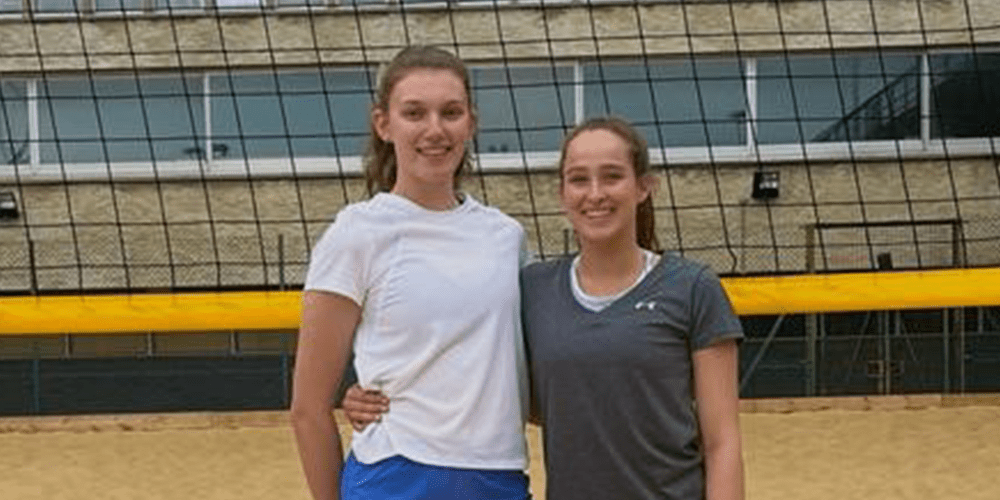 Sofia Nicholson and Alice Brand
Sofia and Alice, both 20 years-old, have played together as part of the England Talent Pathway since 2018. They are now Sports Scholars at Durham University, part of the indoor and beach performance programme. Sofia was born in Madrid, Spain, and, up until her studies at Durham, has been closely associated to Spanish club Volleyball Alcobendas. Alice counts Tettenhall Tigers and Darkstar Derbyshire as her past clubs. Recently they have been training beach together in preparation for the BUCS beach tournament in June.
---
Watch the Commonwealth Games Selection Tournament between 26th-29th May over on Volleyball England's YouTube channel.
---