20 Nov 2023
NVL Review (18th and 19th November)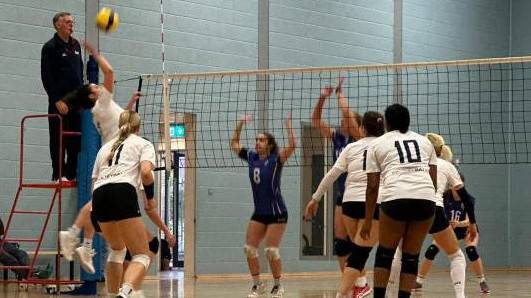 Wessex continue their dominance in Women's Division 1 with a 3-0 victory over Bristol.
The South Coast club have only dropped one set in six games and will look to continue this form and remain unbeaten when they take on Everton Belugas next.
Southampton and Stockport were the only other Division 1 teams in action this weekend.
Southampton are now one point behind London Inter Crocs with a victory over the London side (3-1).
Stockport, meanwhile, visited MK City with the hopes of keeping on the heels of high flying Wessex.
The Cheshire side the first and second sets 25-11 and 25-21 before MK City then did fight back to take the third set 25-19.
However, it was not enough to deny second place Stockport, who claimed the fourth 25-16 for an overall 3-1 victory.
In Women's Division 2 Central, a five-set thriller between Loughborough Students and Essex Trinity saw all five sets closely-fought.
Loughborough took the first and second sets 26-24, 25-23, but Essex hit back strongly, edging the third 27-25.
This gave Trinity all the hopethey needed and allowed them to close out the match in the narrowest of fashions, winning the fourth set 25-23 and the final decider 15-13.
Herts bounced back from their loss to Rhinos last time out with a victory over Oxford Eagles.
Eagles had beaten Loughborough Students on Saturday 3-0 so had hoped to make it two from two over the weekend.
But that was not to be as Herts showcased why they are still top of the table with five wins from six, recording a 3-1 victory over the Oxford side.
Another five-set thriller between Richmond 2 and Sussex Dolphins in Division 2 South gave the former their second win of the season.
It was a back and forth game with Richmond taking the first set, Sussex taking the second and the hosts battling back taking the third.
The Dolphins replicated their success in the second set with a fourth set win but thew London side took charge in the fifth to win it 15-8 and, with it, the match.
York Falcons went unbeaten over the weekend with two games against Manchester Moss Side Jaguars and Liverpool.
After only dropping one set in two games, they are now third in the Women's Division 3 North behind the also-unbeaten Miners Doncaster and Manchester Liberators in what looks set to be a three-horse race for the title.
Liverpool are yet to win a match, with two further defeats over the weekend to York and Manchester Moss Side.
However, they will have the opportunity to put points on the board when playing in another trio of games next weekend involving Manchester Marvels Magic and Hull Thunder.
On the men's side of the compeititon, Weymouth Beach and Black Country remain close behind Essex Blaze in Division 1, with both teams winning this weekend.
Weymouth are one point behind after being taken to five sets against London Giants, with a stunning first set giving a sign of what was to come.
After Giants edged it 31-29, it seemed possible an upset could be on the cards and Weymouth's unbeaten run could be about to go.
Beach responded positively to take the second 25-17 and third 26-24, but London were still in the hunt as they won the fourth 25-22 to level things up at 2-2.
With the match on the line, it was Weymouth who came through the stronger, eventually winning 15-9.
Black Country are just behind Weymouth on 12 points after playing one more game – and continued their good form with a 3-0 victory over Cambridge ARU.
Despite that loss, Cambridge hit back on Sunday and secured a 3-0 victory against Manchester Marvels.
While the result leaves Manchester bottom of the table, they will have the opportunity to change that when they take on London Aces this coming weekend.
In Division 2 North, Loughborough Students claimed a welcome 3-1 victory over Everton Dugongs, whileHull Thunder lost by the same scoreline when taking on Darkstar Derbyshire.
As a result, Darkstar have gone top of the pile, with Lincoln and Sheffield just behind on the same points and only two behind the Derbyshire side.
Lincoln, who are only third due to a slightly inferior sets against record, maintained their momentum after battling to a 3-2 victory over fifth place Harrogate.
Wessex were not able to replicate the success of their female counterparts as they were beaten 3-0 by Richmond Bucks in Division 2 South.
Bristol kept their unbeaten record with a straight sets victory over City of Bristol in a local derby.
The sets were close, with Bristol just able to pip City of Bristol on each occasion (25-22, 25-23, 25-21).
Worthing claimed two wins from two over the weekend with a 3-0 victory over Urbond Portsmouth and a 3-1 victory over Bedminster.
It boosts their position in the Division 3 South West table where they are now up to second, only one point behind Southampton.
Full results of the weekends action can be found here.