8 Mar 2023
Cup Finals 2023: tickets to end-of-season showcase now on sale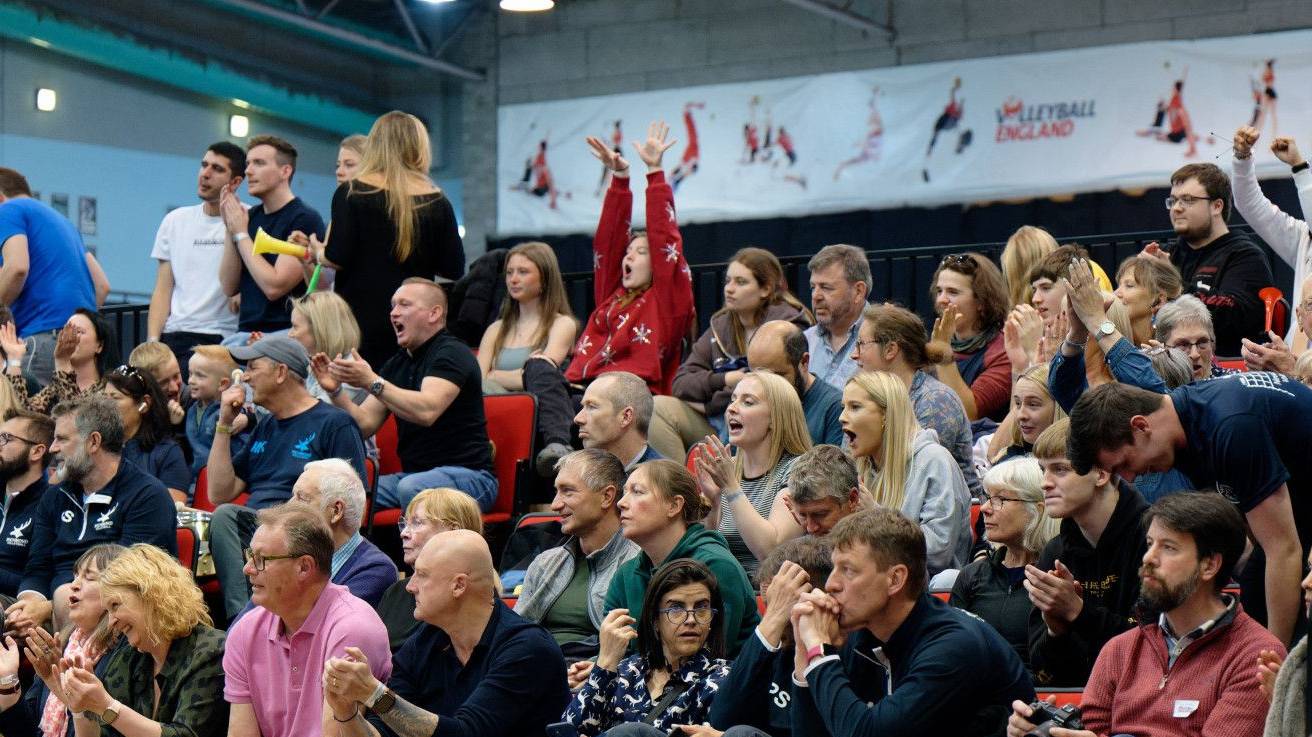 Are you ready to be entertained?
Join us at the National Volleyball Centre, Kettering, for top level volleyball, a roaring crowd, and electric atmosphere as the trophy matches of the National Cup, the National Shield, the National Junior Championships and Sitting Volleyball Grand Prix series are contested at Cup Finals weekend, 22-23 April.
As well as high-octane action, on the Saturday we'll also be celebrating members of the Volleyball Family in our first in-person Annual Awards ceremony in four years.
There will also be food vendors, allocated seating on Court 1 following feedback, and free parking on site.
Tickets cost £16 per adult for an allocated seat or £12 for an open seat, per day, with discounts for concessions and family bundles. Adult weekend tickets can also be purchased for £24 for an allocated seat or £18 for an open seat, and there are options to just buy tickets to either the Men's or Women's Cup Finals.
Tickets can be purchased via the links below:
---
Match schedule:
SATURDAY
11:00 – U16 Girls National Championships: Richmond vs Boswells
12:30 – Sitting Volleyball Grand Prix Final: Sitting Bucks vs Help for Heroes
Reigning champions take on one of the longest running teams in what will be an electrifying final.

13:30* - Women's Shield Final: Stockport vs Bristol
North vs South. Industrial town vs bustling city. In the NVL, Bristol find themselves top of Division 1 while Stockport, a newly established team, are looking for their second successive promotion as they fight for the Division 2 (North) title.
16:00* - Men's Shield Final: Black Country vs Cambridge ARU
Black Country secured their place following a fiery 5-setter with fellow NVL Division 1 rivals Coventry & Warwick Riga. Cambridge ARU, who play in Division 2 (South), knocked out last year's finalists London Aces en route to the final. Both teams will be confident of adding to their club's trophy cabinet.
16:00* - U16 Boys/Open National Championships: London Sharks vs Leeds Gorse
18:45* - Men's Cup Final: Essex Rebels vs Malory Eagles
One of the most successful clubs in the history of English volleyball vs a side with a growing reputation for its on and off-court entertainment. Malory Eagles has won the National Cup on 15 occasions, but not since 2010. Essex Rebels on the other hand have never won it, yet they've been in great form, knocking out three Super League rivals. Who will lift the trophy and make history for their club this year?
SUNDAY
11:00 - U18 Girls National Championships: Richmond vs The Boswell School
A much-anticipated match between two phenomenal sides. Reigning champs Richmond have lost just one set in the competition so far. Boswells have dropped zero. A real 'pick'em' game.
11:00 - U15 Boys National Championships: TBC vs TBC
13:30* - Women's Cup Final: Durham Palatinates vs Team SideOut Polonia (London)
Don't blink when these two Super League title rivals go head-to-head – a repeat of the 2022 Cup Final when Polonia lifted the trophy. Neither has dropped a set so far on their Cup run.
16:00* - U15 Girls National Championships: TBC vs TBC
16:00* - U18 Boys National Championships: IBB Polonia London vs The Boswell School
Historically, Boswells has fielded some of the strongest teams in national junior championships, especially in the U18s Boys category. They hope to beat IBB Polonia to win their first U18 title in eight years. While Polonia's history in the junior game does not run so deep, they've impressed and finished runners-up in the first outing last year.
*Matches will not start before the scheduled time, but could start later